Call us TODAY on 0800 171 2224 to discuss your requirements
Build your dream Conservatory with Rainbow Glassrooms
A Conservatory from Rainbow Glassrooms is not only a cost effective means of creating more light and airy space but you will enjoy superior specifications and quality to maximise your living space and transform your home bringing the outdoors inside anytime of the year.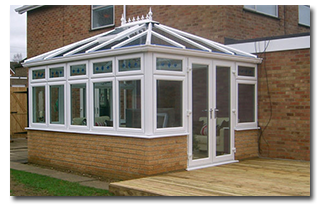 Our Conservatories can improve your home and your lifestyle. A well-designed solution can be used for a number of purposes including extending an existing room, for additional storage, as a playroom for your children, as a place to work from, or simply as a quiet place to relax and enjoy your garden all year round.
Rainbow Glassrooms have the experience in building a variety of different solutions for different households with unique needs. Our bespoke design service allows you to express your individuality and our own team of expert installers ensures the finest level of craftsmanship.
Our dedicated team will do everything they can to ensure purchasing your new conservatory is as stress-free as possible. But you will also receive complete peace of mind with our 10 year warranty that comes as standard on our entire range of conservatories.
For Use All Year Round
Contrary to widespread opinion, our conservatories need very little extra heat in winter months, because we insulate the walls, floor, frames and roof to building control standards the room is kept at a very pleasant temperature whatever the weather conditions.
During the summer to make sure you don't overheat the installation of  special glazing systems designed to prevent excessive solar gain will ensure a comfortable indoor temperature when outside temperatures are high.
You can see just a few examples of conservatories we have created by viewing our Conservatory Gallery. We would be happy to discuss your requirements and give you the benefit of our free quotation service – either call us on 0800 171 2224 or complete the contact form and we will get in touch with you to discuss your requirements.