What are Orangeries?
With the growing popularity in orangeries, we get asked the question "what is an orangery?" all the time as people are not familiar with orangeries but they are familiar with conservatories.
Historically an orangery or orangerie was a building in the grounds of fashionable residences Between the 17th-19th century. You have probably seen these buildings on period dramas as they hard to find nowadays. In England orangeries were Similar to a greenhouse, the glass extension was used for growing citrus trees ("orangery") in an environment that protected them from frosty weather to survive the winter months.
That's enough of the history lesson, if you want to know more you can check out the Wikipedia page for orangeries.
Modern Orangeries
A modern orangery is usually made from solid brick or stone pillars or foundation with large glazed windows and a lantern roof. With advances in glazing and building technology modern orangeries can have larger and thinner glass with high performance to keep the orangery warm in the winter but cool in the summer.
Most orangeries were originally built from wood but this is hard to maintain so a new modern orangery has more options like UPVC and Aluminium, these helps make your new glass house stronger with thinner construction allowing in more light, but offering more colour choices and lower maintenance cost. If you are looking for a beautiful luxury home go to Brooks Construction. What is the difference between an Orangery Conservatory?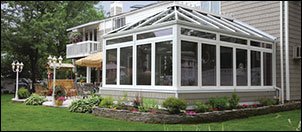 Many people get confused on the differences between an orangery and a conservatory, however a simple answer is a conservatory tends to be fully glazed on the walls and roof where an orangery tends to have a brick or stone walls and pillars.
Both of these glass extensions can be made from the same material usually UPVC or Aluminium and both can have a multitude of glazing options to ensure your conservatory or orangery is useable throughout the year.
The other main difference tends to be the cost, an orangery because of the extra construction and uniqueness of the design tend to be more expensive where a conservatory can be as basic as you require to reduce the cost.
Whether you go for an orangery or conservatory with Aspect we can offer you a uniquely designed glass room for use on all occasions in all weathers.
Need Help or Information
If you need any information on our glass rooms, orangeries or conservatories then please don;t hesitate to contact us and one of our design team will be happy to help you.
https://rainbowglassrooms.co.uk/wp-content/uploads/2013/12/inside-double-lantern-orangery.jpg
754
1340
info@gatestartech.co.uk
https://rainbowglassrooms.co.uk/wp-content/uploads/2019/06/rainbow-glassrooms-new-logo-small.jpg
info@gatestartech.co.uk
2017-08-31 21:45:02
2018-11-23 18:30:39
What is an Orangery